All of your life, someone is pointing the way, directing you this way and that, determining for you which road is best traveled... Here is your chance to find your own way. Don't ask me how to get to McGee Canyon or Lake Double-Eleven-0. Go, on your own. Be adventuresome. Don't forever seek the easiest way. Take the way you find. Don't demand trail signs and sturdy bridges. Don't demand we show you the mountains. Seek them and find them yourself... Be free enough from intentions to find goodness wherever you are and in whatever is happening. Here for once in your life you needn't do anything, be anywhere at a determined time, walk in a certain direction. Here's your one chance to get lost, fall in the creek, find a beautiful place.
~ Randy Morgenson, Kings Canyon National Park backcountry ranger, 1973
'What are some exercises we can do?' My friend Susan asked me that question after I finished sharing a story during a workshop I was leading. The story was about my older brother, Jeff and the workshop was around having a vision for their future. It's a squishy concept, not easily defined. She wanted it to be, I could tell. I didn't blame her. I wanted to help. In that moment, between her asking and me stumbling for an answer, something I had been struggling with for a while connected. To help meant not giving her the answer she wanted to hear.
Morning of the fourth day. Sitting on granite with the sun and breeze looking out over Darwin Bench. Clouds materializing off in the west distant horizons it seems as if over the Pacific Ocean. For some inexplicable reason I just realized now how I am drawn to this view here of a faint trail far off beyond disappearing over the edge. Beyond the drop lies the chasm of McClure and Evolution valleys. I am mesmerized by that trail. I know where it goes because we found it, followed it, two days earlier onward to Evolution. But if I did not know, and even that I do now, disappearing off to somewhere that cannot be seen, it pulls me forward like gravity. Reminds me of how I know but do not know. A mad-crazy wild. A treeless waste. All of this exploding right now in this absolute moment unbearable.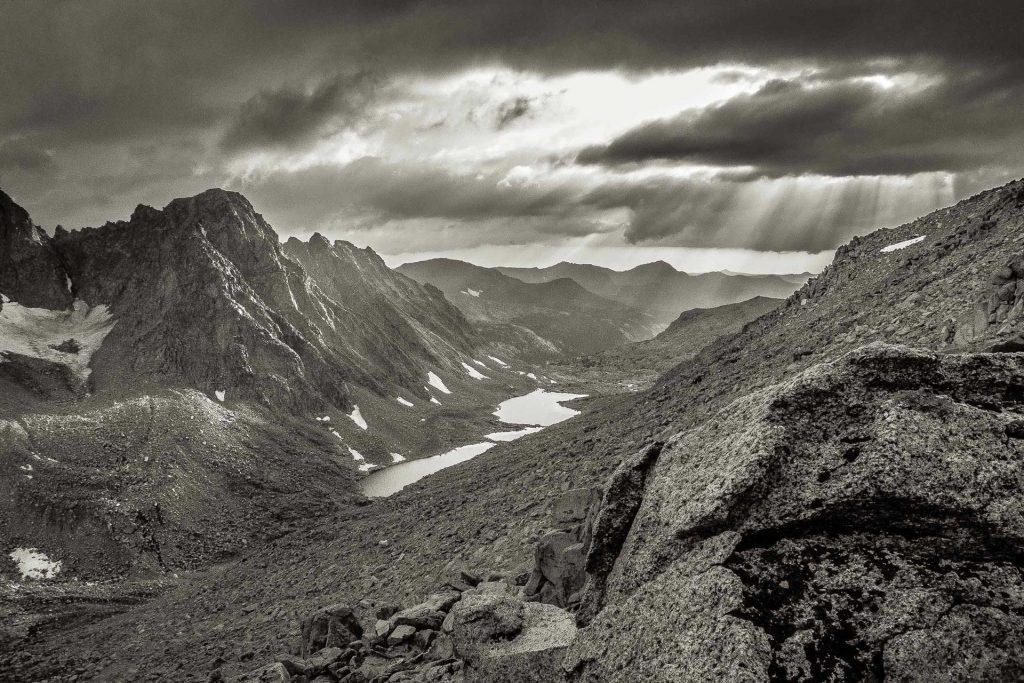 I remembered that journal I had written on a backpacking trip with my son, Julian, through the Sierras. That was eight years ago. J was twelve. A long time ago, only yesterday sometimes it seems. I was staring at a trail far off in the distance. We happened upon it a couple of days earlier in an otherwise trail-less canyon.
I think about that trail, and about wandering when there are no trails, and about Susan asking for some exercises. It's not just me, this need to know all mixed up with a longing to discover. There's comfort in knowing, scariness in not. Her question has haunted me since that workshop. I didn't know of any exercises. Admittedly, I couldn't remember doing any myself. Then I was struck by my own process. Two years ago, settled in Seattle, I envisioned living somewhere I could ski out my front door. We now live on the eastern edge of the Cascades. Our first winter here, I walked out of our door and went skiing.
There was really only one thing to do, I told her, speaking from that experience: Start thinking about it.
Forty feet to go. Twenty. I let J catch up out of breath persistent as ever clambering up the rocks below, a feeling in me impossible to write. A pride beyond belief, exploding. I let him pass as I always do so he could lead us to the top. Struggling I could tell with his own will to make the last few steps to the col. I snapped a photo of him. Then followed behind. At the top there was the sign: ENTERING KINGS CANYON NATIONAL PARK LAMARK COL. Someone had scratched in the metal the elevation: 12,880. Beyond there was the view. So epic it took me by surprise. Startled. There was the whole granite rampart of the Sierra spread out in front of us peak upon peak upon peak. Darwin and Mendel leapt forth from the canvas that had up until this point only existed in my mind. Now here tactile enough to touch as if a chiaroscuro painting heavy-handed unfolding. I turned and pointed south in an exclamation of all that was real in that linear moment toward streams of light bursting forth from the literal hands of God. A complete painting of Darwin Canyon unfolded awash in focused pale light. Brushstrokes of cadmium and bromine. The lakes still a thousand feet below shimmered effervescent. Scraped dirty ice of glaciers tens of thousands of years old. The granite, millions and millions. And J. Above me on top of the rocks silhouetted against the chromatic blue sky fading. I felt alight in the dim instinct of the mountains. The stone and ice and water and light and fear and joy and myself all one. Now I stare at this journal trying to etch the sense of that moment knowing I cannot. Hanging on the molecules of air were droplets of water like tiny prisms scattered somehow in four dimensions. The iridescent light over it all.
They waited for more of an explanation, Susan and everyone else taking an hour out of their day to hear me ramble on about my brother's story, about my own story. Something to get them going. More than my feeble offering, 'Start thinking about it.' I didn't blame the rest of them, either. I had already been wondering, if I don't have all the answers, what do I bring to this world? I had been searching myself for how I can help. As long as I can remember, helping meant knowing the answer. 'Here Susan, here are some exercises to help you with your vision,' I should have been able to tell her. 'Here's the magic that worked for Jeff, the magic that worked for me.' But as I thought it, and now as I write it, I knew that wasn't the answer she needed.
The descent down to the lakes seemed to stretch to infinity. Both of us drained from the storm nervous and frightening. Steep and no real path. I'd pick up the hint of a trail through the talus and gravel benches but lose it in an instant. The lakes and patches of green dotting the shores beckoned in the fading day. There after such exaltation I felt a rush of an impending low. Crawling over talus along the second lake inching our way to a flat area just further beyond. More storm clouds approaching. How did J do it? When I felt on the edge of such collapse straining to keep leading us on through granite unknown. Struggling with every pore of my being for the strength. I saw my own transience. Tried to understand the meaningless of the mountains. How they just simply exist. There must be reason for it all. Here this place so wild and desolate, overwhelming. Mythic. Unchanging and changing. Above all the sky.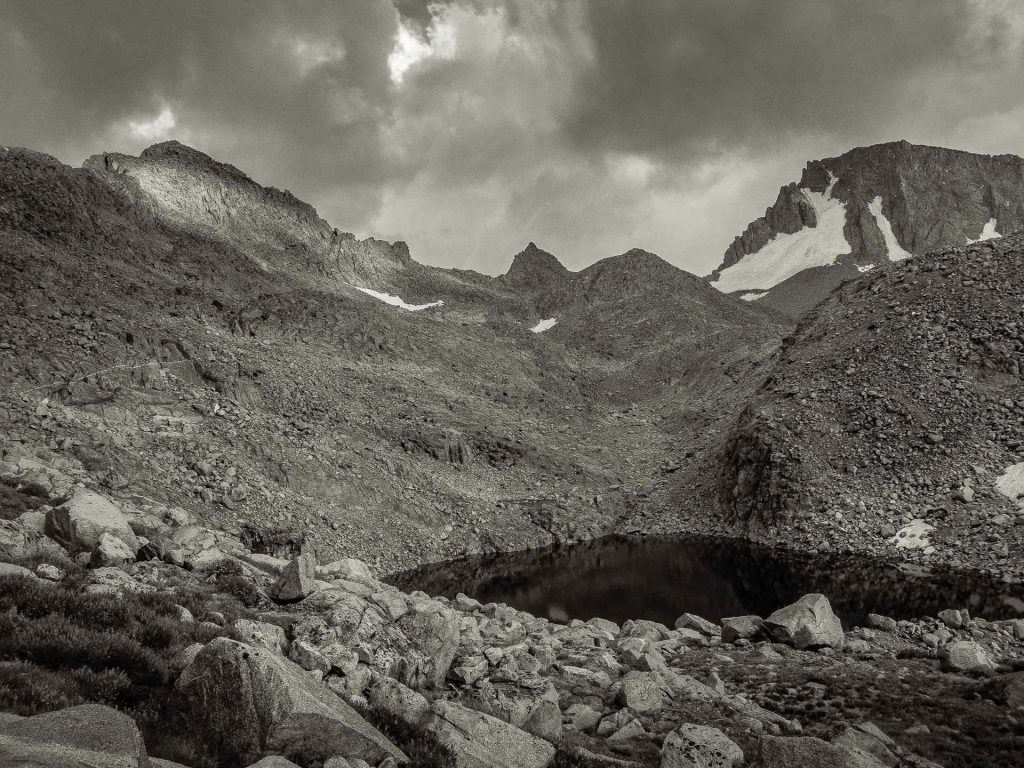 I've come to realize there are three things I need when trying to learn something as amorphous as becoming a leader:
I need to share my story.
I need to hear the stories of others.
I need to draw my own conclusions.
What's been so hard for me to accept is how I, in fact, help others best when I don't have all the answers. When I inspire them to get comfortable with the unknown. Like the treeless waste of the Sierras, all big, beautiful and scary. The value then I create is in a much less tangible, much less immediate way. I bring folks who are going through the same thing together. In small groups, where we can share stories, we can ask questions, we can listen. Where we can learn from one another.
The trouble is, this isn't how learning has ever really looked for me. I've been taught throughout my life by sitting back and listening, under the assumption the teacher knows everything and I know nothing. That was true in grade school. When I showed up for my algebra class in seventh grade, I honestly had no idea what x was. I trusted Mr. Durst did. Eventually, through his instruction, I learned. Leadership is different. It's not algebra. Teaching professionals is different. They're not eighth graders. Susan, the others in our workshop that day, they all have experience. Just like them, I have experience. It's absurd to think I have all their answers. But not having the answers scared the shit out of me. That's how I always thought I created value.
Like discovering a trail in an empty canyon, there's an incredible power in having to draw my own conclusions. Through the process, I learn. I grow. That's the connection that came to me during our workshop. That's why I couldn't answer Susan's question. She needs to discover what works for her in crafting her own vision. It won't be the same as what worked for Jeff, or for me. She has her own story.
Bringing people together, sharing my story and allowing them to share theirs, is an unbelievable opportunity. There's beauty in not knowing, in discovering. For Susan to envision, one day as Jeff and I each did, her future. For me in not knowing the impact I may have on her by simply opening up and sharing my own story. Without giving her any exercises, without showing her the way. I trust, if I've even slightly inspired her to start thinking about her vision, she'll find her way.
We just have to pack. Easy hike out all downhill. A few miles. Crazy I think the geology of mountains. How they all rise and rise and rise ever higher to a crest, then fall away on all sides in every cardinal direction. Summits splinter the space above. Fall away themselves over time. Eons. And on the other side such wildness. Such incredible breaking beauty. How far one can go with only a pack placing one foot in front of the other. Thousands and thousands of feet up and down. Miles and miles and miles. J swats at flies nearby. I must finish writing this. The sounds of the stream below the upper and lower lakes the only thing that breaks the silence now in between. The blue polarized sky cloudless. The grey granite looming.